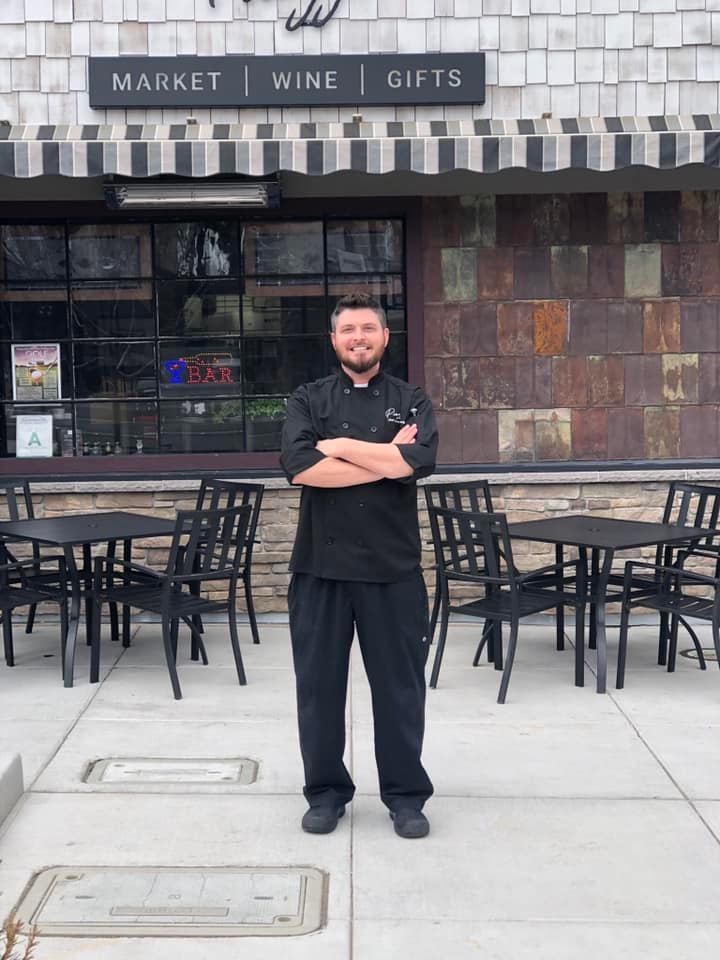 EXECUTIVE CHEF
Piazza Restaurant & Bar would like to introduce our Executive Chef, Jared Manning, who brings many years of casino, stand alone, hotel, and celebrity chef fine dining to our little Carson City establishment! Chef Manning was born into a middle class, hardworking family of 7 in downtown Green Bay, Wisconsin. With both parents working several jobs, he started cooking very early on (around the age of 10), feeding his siblings after school. Graduating high school early, Jared joined the USAF (United States Armed Forces). He was deployed to Germany only months before 9/11, helping in the deployment and war effort. While serving our country, Jared was able to travel all over Europe, Asia, the Mediterranean, and even Northern Africa, sampling and learning a plethora of the world's best cuisines.
Post military service and ready for a break, Jared entered the service industry while using the GI bill to further his culinary education. He set a goal of becoming a restauranteur and sought the knowledge he needed in the kitchen to fulfill his dreams. Graduating from Le Cordon Bleu with a 4.0, receiving 4x Presidential Honors, and graduating in the top 1% of the entire school's history, he immediately started working in Las Vegas's fine dining industry and was able to work for names such as Michael Mina, Jean Georges, Emeril Legasse, Scott Conant, James Trees, Sven Mede and more.  Before moving to Carson City, NV, he worked in the Las Vegas Culinary Union at The Cosmopolitan Casino and Hotel, helping to bring the union to the forefront of every resort in Las Vegas. His decisions to work in the union and to make the move to Northern Nevada were calculated to assist and support his choice of raising a family.  His wife and two sons thank you for patronizing Piazza Restaurant & Bar, the cornerstone in his plan to raise his kids in the wonderful town of Carson City, Nevada.
Chef Jared has blown us away with his loyalty and committment to our vision right from the start, moving his wife and sons to a new city and jumping in feet first to become part of our Piazza family! He brings a level of creativity, work ethic, and leadership to the back of the house, while also being a team player working hand in hand with our front of house, benefitting everyone including our awesome customers! He is not scared to jump in wherever he is needed, which means you might see him mixing drinks or serving your next dish! Our guests have very much enjoyed his culinary creativity, while also doing a great job on the Piazza favorites that you know and love. It's truly a treat to experience one of our Wine Dinners with his expert food pairing and he loves to work with customers to customize private events that will blow their guests away! We are very excited to continue our journey with Chef Jared and we are grateful to partner with someone who is committed to making our vision of Piazza a reality in the Carson City food community!
FOOD & BEVERAGE MANAGER
Robin Shriver is at the top of her game in the hospitality business and we consider ourselves lucky to have her on our team. With over 35 years of experience in a full spectrum of roles from corporate food service to sole ownership, Robin joined us to reunite with her Adele's family, and to be part of our new adventure at Piazza. Her passions are service excellence, teamwork and wine! She loves discovering new wines and sharing them, and is a great resource when you want to try something new and different.