SMALL BITES
HOUSE BAKED SOURDOUGH ROUND 6
SERVED HOT OUT OF THE OVEN WITH HERBED BUTTER/EVOO & VINEGAR
"BELLA VITA" POTATO CHIPS 7
Local made favorite, served warm, with our house made dip
HOUSE BLEND BOWL 6
MARINATED OLIVES AND ARTICHOKE HEARTS
CLASSIC BRUSCHETTA (3) 9
TOMATO, FRESH BASIL, PARMESAN
SMOKED DUCK CROSTINI 10
LIGHTLY TOASTED TOPPED WITH TENDER SMOKED DUCK, BERRY COMPOTE AND ORANGE ZEST
ITALIAN KNOTS (3) 8
HOUSEMADE SOURDOUGH, TWISTED AND BAKED CRISP WITH AGED CHEDDAR, SPICY POMODORO DIP
DEVILISH EGG 10
CRISPY PANCETTA AND SMOKED PAPRIKA (4)
*ADD CRAB | 5
BUFFALO POTSTICKERS 12
DELICIOUS & CRISPY, FILLED WITH LOCALLY SOURCED BISON, SERVED WITH SWEET & SPICY SAUCES AND CUCUMBER SALAD WITH A CREMA AIOLI
CRAB CROSTINI 12
LIGHTLY TOASTED WITH OLIVE OIL AND GARLIC, TOPPED WITH DELICIOUS CRAB SALAD AND AVOCADO (2)
STARTERS
PIAZZA DAILY SOUP 9
ASK YOUR SERVER FOR TODAY'S SELECTION OF HOUSE MADE SOUP
SEAFOOD COCKTAIL
GAZPACHO STYLE COCKTAIL, ROMAINE, LARGE PRAWNS, OR
COMBO OF DUNGENESS CRAB AND PRAWNS, LEMON, FRESH DILL
SHRIMP ONLY  14     CRAB & SHRIMP COMBO  16
WINTER SEASONAL SALAD 10
MEDLEY OF GREENS MIXED WITH KALE, SHAVED BRUSSEL SPROUTS, APPLE, CRANBERRY AND CANDIED PECANS, WITH A CREAMY RANCH DRESSING
CAESAR SALAD 12
CRISP ROMAINE, GARLIC CROUTONS, WHITE ANCHOVY, CREAMY CAESAR DRESSING
SPINACH SALAD 12
FRESH BABY SPINACH, CRISPY PANCETTA, CHOPPED EGG, MUSHROOM & A HONEY VINAIGRETTE
BEET SALAD 12
MIXED GREENS, LOCAL HEIRLOOM BEETS, SWEET RED ONION, GOAT CHEESE, WHITE BALSAMIC VINAIGRETTE
ADD TO ANY SALAD
CHICKEN 6 | SHRIMP 7 | CRAB 8 | AHI 8
FLATBREAD STYLE PIZZAS
MARGHERITA 15
POMODORO, BASIL, OVEN ROASTED TOMATO, FRESH GARLIC AND MOZZARELLA
FIG 16
HOUSE MADE FIG JAM, PROSCIUTTO, POINT REYES BLUE CHEESE, CHEDDAR CHEESE, TOPPED WITH BALSAMIC GLAZE
MEATBALL 16
SLICED MEATBALL, BASIL POMODORO SAUCE, RED ONION, MUSHROOM, FRESH MOZZARELLA
Basque 17
Chorizo, Pomodoro Sauce, Manchego Cheese, Onions, Fennel & Pepperoncini
CALI CHICKEN 18
SAUTEED CHICKEN, CREAMY GARLIC SAUCE, ARTICHOKE HEARTS, SUNDRIED TOMATO, MUSHROOM, MANCHEGO CHEESE
Sicilian 18
Pomodoro Sauce, Fresh Mozzarella, Salami, Pepperoni, Prosciutto, Capicola, Onions, and Mushrooms
Plates to Share
HOUSE MADE HUMMUS 12
WITH SEASONAL VEGGIES, PINE NUTS, SERVED WITH PITA BREAD
Charcuterie Sampler 15
Small board selection of two meats & cheeses, fruit and nuts with sliced baguette
PECAN CRUSTED BAKED BRIE 16
CRANBERRY PEAR CHUTNEY, FIG JAM, WITH HOUSE BAKED CRANBERRY BREAD
Classic Four Cheese Fondue 16
WITH HOUSE SOURDOUGH BREAD CUBED, APPLE SLICES, AND VEGGIES FOR DIPPING
Add Crab 8 | Add Crispy Pancetta 4
Large Cheese Board 24
Five assorted select cheeses, fresh and dried fruit, assorted crackers and baked lavash
Large Charcuterie Board 26
SELECT EUROPEAN CURED MEATS, CHEESE, OLIVES, SERVED WITH SEASONAL VEGGIES, DRIED FRUIT, NUTS, HOUSE MUSTARD AND LIGHTLY TOASTED CROSTINI
ESCARGOT SPECIAL 21
LIGHT GARLIC, BUTTER AND LEMON CREAM SAUCE, TOPPED WITH GORGONZOLA CHEESE, APPLES AND GRAPES, SERVED WITH 1/2 ROUND HOUSE SOURDOUGH
PIAZZA SMALL PLATES
ROASTED BRUSSEL SPROUTS 9
TOSSED WITH BUTTERNUT SQUASH, CRANBERRY AND CANDIED PECANS
CRISPY SMASHED POTATOES 9
ROASTED FINGERLING POTATOES WITH A TANGY CREME FRAICHE, CHIVES
Mac N Cheese 11
HOUSE MADE CREAMY FOUR CHEESE SAUCE
Add Crab 8 |  Crispy Pancetta 4
CHICKEN PICCATA 18
TENDER CHICKEN BREAST, SAUTEED IN A TANGY LEMON-BUTTER-CAPER PAN SAUCE, SERVED OVER LINGUINI, WITH GARLIC TOAST
MEATBALL TRIO 17
ITALIAN STYLE IN POMODORO SAUCE OVER LINGUINI, TOPPED WITH BASIL, PARMESAN, SERVED WITH GARLIC TOAST
BRAISED SHORT RIBS 20
TENDER BEEF SERVED ON A BED OF CREAMY CHEDDAR POLENTA WITH BRAISED VEGETABLES
SEARED ATLANTIC SALMON 20
SERVED ON A BED OF FRESH BABY SPINACH, LEMON ZEST, FINISHED WITH A LEMON, BUTTER, DILL AND CAPER SAUCE
DIVER SCALLOPS 21
(4) PAN SEARED WITH A BURRO RUSSO CREAMY TOMATO PANCETTA SAUCE, LOCAL MICROGREENS
PIAZZA LAMB POPS 21
(3) A HOUSE FAVORITE! COOKED TO PERFECTION, WITH A WHISKEY PEACH GLAZE
PIAZZA CIOPPINO 23
CLAMS, MUSSELS, PRAWNS AND SCALLOPS IN A DELICIOUS SAVORY RED SAUCE WITH A LITTLE KICK! TOPPED WITH CRAB AND SERVED WITH 1/2 ROUND OF HOUSE SOURDOUGH
INDULGENCES
ROYAL OSSETRA FROM IMPERIA CAVIAR 75
1 OZ (30G) WITH ALL THE BEST ACCOUTREMENTS, CREME FRAICHE, MINI TOASTS AND BAKED LAVASH
*IMPERIA CAVIAR OFFERS HIGH QUALITY SUSTAINABLY FARMED CAVIAR WITH RESPONSIBLE CAVIAR HARVESTING PRACTICES
PATE FOIE GRAS 1OZ 38 | 2OZ 56
FROM "LES TROIS PETITS COCHONS" ALL NATURAL, ARTISANAL AND HAND CRAFTED, WITH SAUTERNES WINE, COGNAC AND SPICES, SERVED WITH BAKED LAVASH, GHERKIN PICKLES, PEPPERS & ORGANIC CAPERBERRIES
SWEET TREATS
SAVE SOME ROOM FOR OUR DELICIOUS DESSERTS!
Crème Brulee  8
The best you've ever had, garnished with fresh berries
Chef's Cheese Cake 8
A classic, topped with chocolate and caramel swirls or berry compote
Mini Tart 8
Delicious pumpkin or apple tart topped with whipped cream or a scoop of vanilla ice cream
Crema Catalan 8
Sweet, light and creamy custard, with a touch of citrus, vanilla and cinnamon, whipped cream topping
Piazza Specialty Cocktails
Piazza is ready to be in the Carson food & drink scene with your old favorites such as Coffee Adele nestled among some creative new offerings that feature our twist on iconic Italian classics as well as fresh new recipes. In addition to our full wine list, we offer a great selection of beers on tap from local breweries.
And for our friends who enjoy socializing sans alcohol, our bartender has created refreshing and unique options to tickle your palate.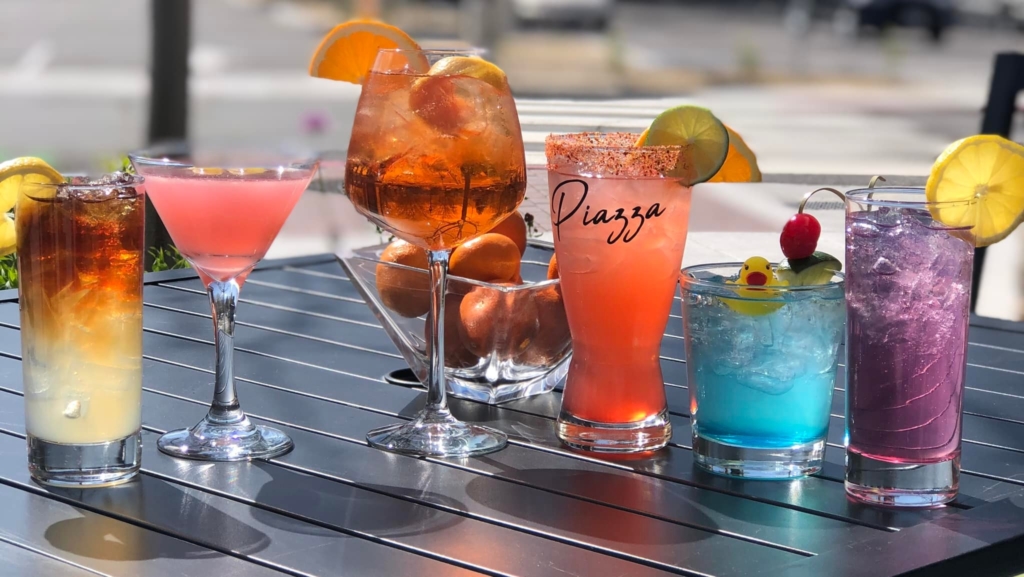 Ortigia Spritz | 12
Bocelli Prosecco, Aperol & St Germaine Liqueur, a splash of soda, with a slice of orange and a twist of grapefruit
Piazza Picon | 10
Meletti Amaro, Grenadine, and a splash of soda with brandy float, lemon twist
Lavender Empress | 12
Empress 1908 Gin, Splash of lavender lemon syrup and tonic, lemon twist and lavender garnish
Spicy Watermelon Margarita | 12
Tequila, watermelon liqueur, triple sec, fresh lime juice, tabasco, served on the rocks with a Tajin rim
Piazza Peach Old Fashioned | 11
Frey Ranch Bourbon, fresh peaches, peach bitters
Positano Lavender Lemon Drop | 12
Kettle One vodka, blackberry lavender syrup, fresh squeezed lemon, lemon zest, sugar rim and lavender garnish
Very Berry Mule | 11
Tito's Vodka, Mixed berry puree, ginger pepper syrup, gingerale
Blue Lagoon | 12
New take on Long Island Iced Tea! Island Punch Schnapps, vodka, gin, rum, splash of lemonade, lemon wheel garnish
19th Hole | 11
Arnold Palmer with a kick! Deep Eddy Sweet Tea vodka, lemonade, lemon twist
Piazza Adult Milkshakes
Root Beer Float 10
House infused vanilla vodka, dark creme de cacao, galliano, root beer,
Scoups vanilla ice cream
Brandy Alexander 10
Brandy, Dark creme de cacao, Scoups Vanilla Ice cream
Piazza Mocktails 7
Cranberry Cooler
A Blend of cranberry, fresh orange, lemon, lime and pineapple juices,
with a splash of soda
Berry Lemonade
Light and refreshing lemonade with fresh berry puree, splash of soda
Spicy Mango Peach Lemonade
Mango Peach puree, lemonade, tabasco, and a Tajin rim
Piazza Kids Menu 6
All Kids Menu Choices come with Fresh Fruit and choice of soda or juice!
Substitute Kids Milkshake for Drink $3
Mac N Cheese
Our famous mac n cheese, served kids sized!
Pizza
Kid sized cheese pizza, served plain or add pepperoni, served with ranch dressing
Spaghetti & Meatball
Yummy pasta, served with red sauce and one meatball